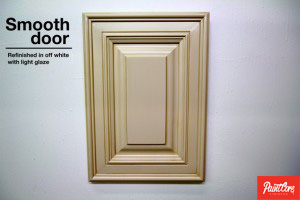 Solid Color Refinishing (painted lacquer finish): Smooth Surface Cabinets
This method is best used on kitchens that have been made with smooth wood species such as maple, or cabinets constructed with MDF orthermo foil. The smoother the surface the better the solid color finish looks. With this method we can refinish with any color you want and provide finish sheens from dull rub (matte), low gloss (satin), medium rub (semi-gloss) and high gloss.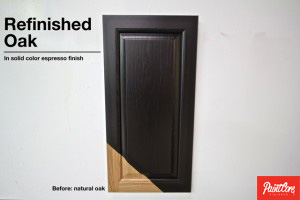 Solid Color Refinishing (painted lacquer finish):Oak
Open grained woods such as oak can be refinished in solid colors as well. We recommend on these types of cabinets to go with darker colors such as dark browns and blacks. The reason we recommend darker colors is due to the grain pattern in oak. Darker colors typically show off the grain definition in a much more classic and elegant way. We have refinished oak kitchens in white as well, but we feel that the darker tones will look better for a longer period of time, surpassing trends and always looking timeless.